Glory Brick 12300H | Replacement Lithium Battery | GARAYE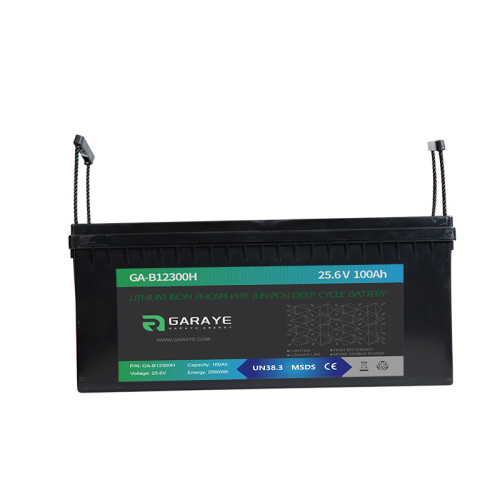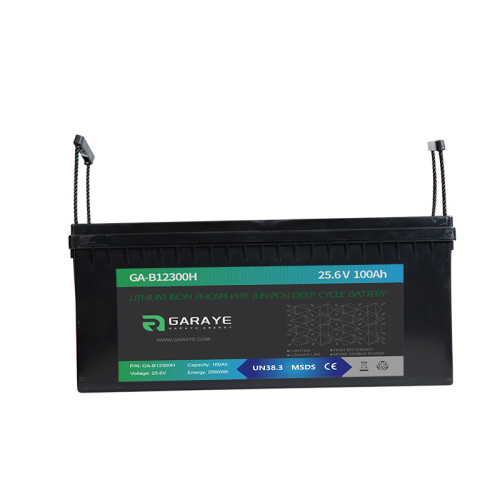 | | |
| --- | --- |
| Categories | LiFePo4 Deep Cycle Battery |
| Brand | GARAYE Lithium battery storage system |
| Model | GA-B12300H |
| Nominal Capacity | 300Ah |
| Rated Energy | 3840Wh |
| Rated Voltage | 12.8V |
| Weight | 33kg |
| MOQ | 200pcs |
| FOB port | Shenzhen, Hong Kong |
| Terms of Payment | L/C, T/T, Paypal |
| Update Time | 2021-09-27 |
GA-B12300H | Replacement Lithium Battery | GARAYE

Description:
Glory 12V lithium iron phosphate battery pack is designed and manufactured with features of high energy density, safe and reliable, long service life, etc. With its unique advantages, it is widely used in caravans, tourist coaches, electric two-wheelers, tricycles, emergency lights, security monitoring, and other power supply equipment. The universal dimensions with excellent performance provide the user with an ideal drop-in replacement solution for the traditional lead-acid battery.

Features:
It is composed of LiFePo4 battery cells in series and parallel, which have the characters of good safety performance, high energy density, and long cycle life.
Using laser welding craft, with a high degree of automation, low internal resistance, high energy efficiency, to ensure the welding quality.
Supports 4pcs in series connection for 12Vdc platform, 2pcs in series for 24Vdc platform, which provides a wide range of applications.
Built-in intelligent BMS optimizes the performance and safety of the battery by automatically balancing cells and protecting them from overcharge, over-discharge, over current, short circuit, high and low temperature protection functions, graded alarm and wireless monitoring functions.
Using the lithium-ion battery, green and eco-friendly, low lifetime cost.
Independently developed products, we can arrange experienced engineers to provide technical support
Customized solutions can be provided according to the user scenarios.
BlueTooth Support, Through the self-developed ZRGP mobile application, you can remotely monitor the operating status of the battery via Bluetooth, and support both Android and IOS.
No.
Item
Unit
Value
Remark
01
Cell Model
-
LFP 3.2V 100Ah
02
Combination Mode
-
3P4S
03
Nominal Capacity
Ah
300
04
Rated energy
Wh
3840
05
Initial Internal Resistance
mΩ
<75
AC 1KHz
06
Rated Voltage
V
12.8

07

Recommended charging voltage

V

14.2(MAX14.6V)
Unit cell max. charge
voltage not exceed 3.65V

08

Discharge Cut-off Voltage

V

10
Unit cell min. discharge
voltage not lower than 2.5V
09
Standard Charge Current
A
60
0.2C
10
Max. Charge Current
A
≤150
1C
11
Standard Discharge Current
A
100
12
Max. Discharge Current
A
≤150
13
-20℃ Discharge Capacity
≥65% Nominal Capacity
14
Cycle life
-
≥3500 times
DOD>80%

15

Operating Temperature

℃
-0~+45℃
Charge
-10~ +60℃
Discharge
16
Open Circuit Voltage
V
12.8-13.6
17
Shell type
-
ABS Plastic Shell
18
Weight
kg
33
About
19
Dimension
mm
522(L)*240(W)*218(H)
Exclude wiring terminal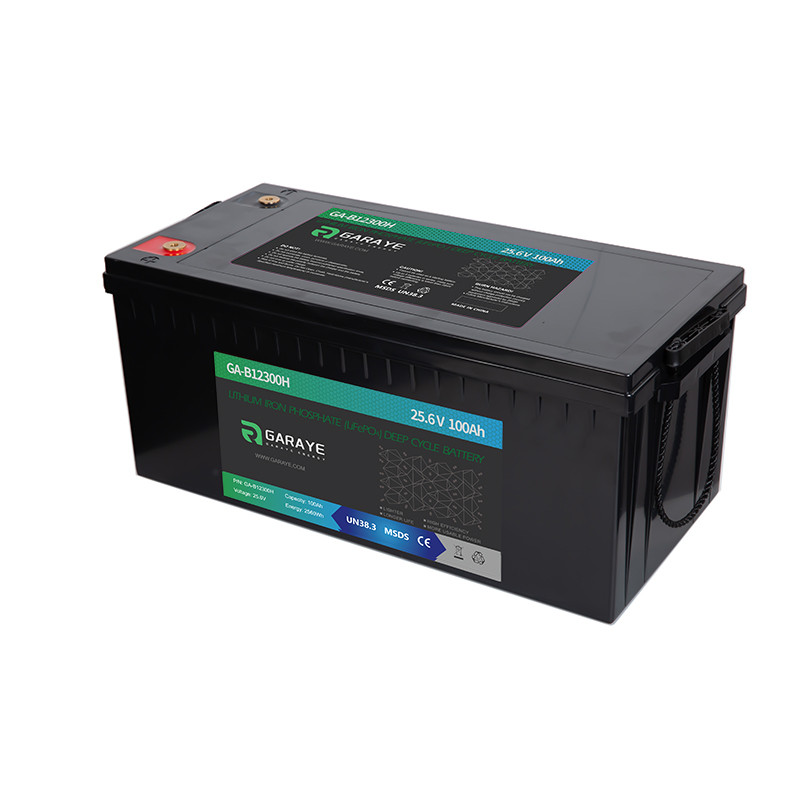 Up to 10 Times Life

The life span of our lithium battery is 10 times longer than lead acid battery.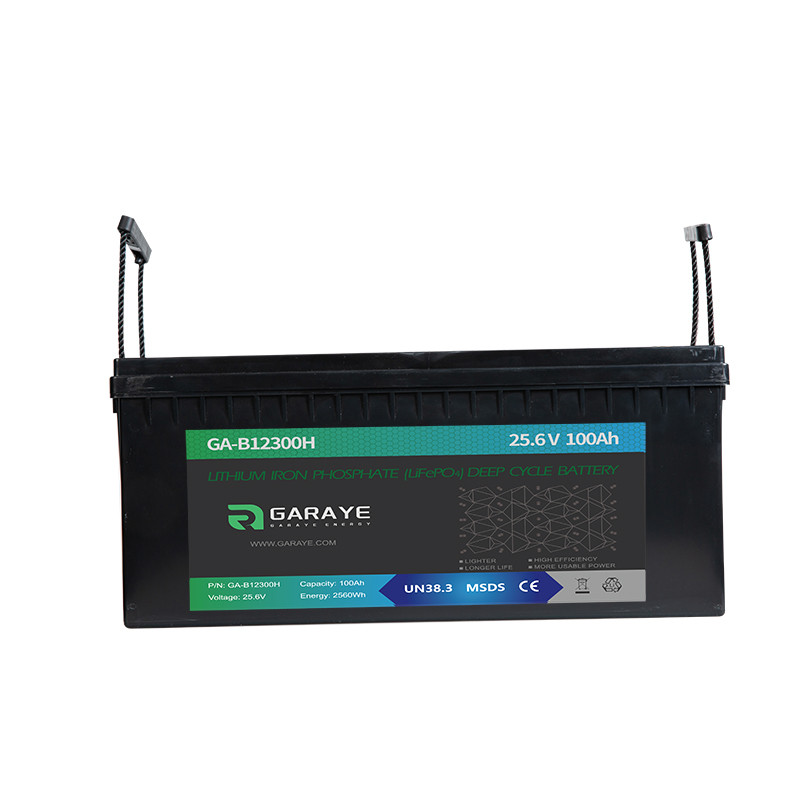 60% Faster Charge

Our batteries can be charged to 100% full in one hour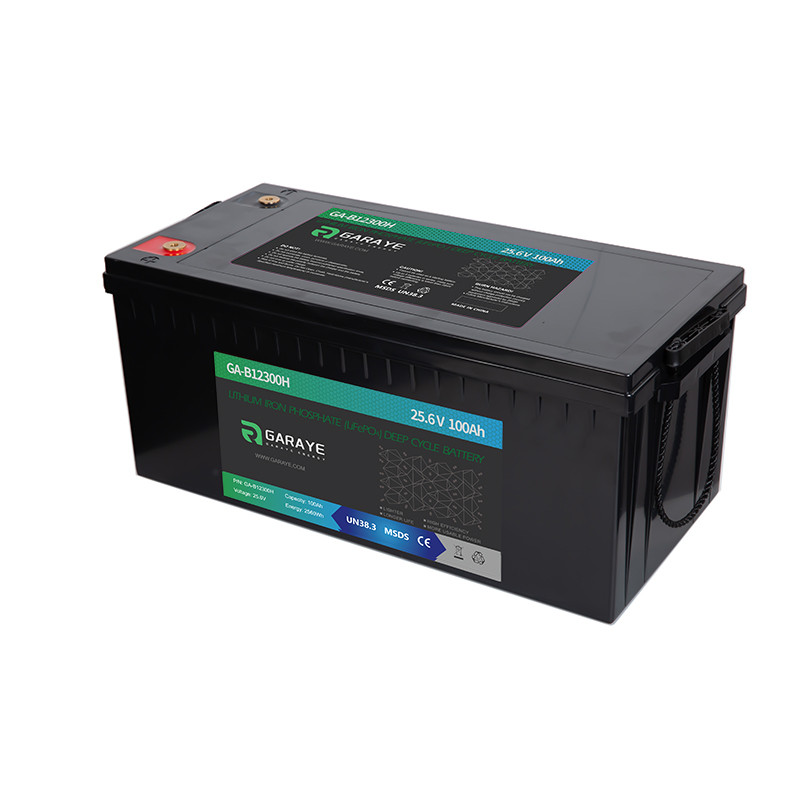 70% Lighter in Weight

Lithium-ion batteries are one-third the weight of lead acid batteries

Please feel free to contact us if you have any quesetions, comments or requests. We'd love to hear from you.
Renewable | Reliable | Remarkable